PINK Ribbon Special
Mini-RSK® Mk1
Give a Practical PINK Present of Precious Hope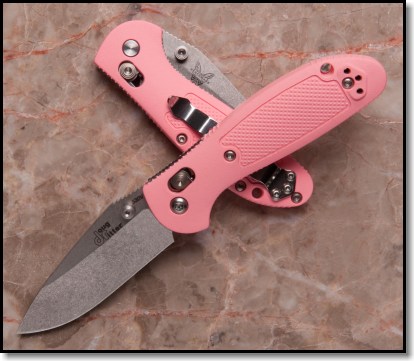 Tell her you love her with a gift that will not only equip her to survive the trials and tribulations of everyday life, but which also gives a gift of hope to all those who are impacted by the scourge of breast cancer. The Doug Ritter PINK Ribbon Special PINK Mini-RSK Mk1™ is an incredibly useful tool that will remind her of your thoughtfulness every time she uses it.
The PINK Mini-RSK Mk1™ is exactly like our highly regarded Doug Ritter Mini-RSK Mk1™ (click for complete specifications and information on the standard model Mini-RSK Mk1™), but with PINK Valox handles and all bright hardware. We have also replaced the standard pocket clip with a more stylish "split arrow" clip (which is still removable and reversible). Ultimate utility meets ultimate love. The bright hardware and split arrow clip make for a very classy looking pocket knife any woman will be proud to own and use, and the envy of all her friends.
For every PINK Mini-RSK Mk1™ sold, Doug Ritter and KnifeWorks contribute 10% of the purchase price to the Bobbi Olson Cancer Fund supporting the Arizona Cancer Center's Division of Women's Cancers, which is dedicated to discovering new treatments for breast, ovarian, and uterine cancers, as well as other gynecological cancers. This newly created division at the acclaimed Arizona Cancer Center brings together clinical and research faculty from many departments who focus on breast and gynecological cancers under one umbrella.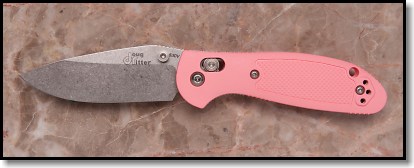 The Arizona Cancer Center is a premier National Cancer Institute-designated Comprehensive Cancer Center celebrating its 32nd anniversary this year (Comprehensive status is the highest ranking the NCI gives to cancer centers). With primary locations at the University of Arizona Health Sciences Center in Tucson and on the campus of the Virginia G. Piper Cancer Center in Scottsdale, the Center has more than 250 physicians and scientists working to prevent and cure cancer.
Please note that this generous donation is in addition to a Pink Ribbon contribution from Benchmade based on the wholesale cost of the knives to KnifeWorks (see details here). You are getting a double dose of cancer-fighting effort from your purchase of the Doug Ritter PINK Ribbon Special PINK Mini-RSK Mk1™.
A personal message from Doug Ritter and Roger Claunch:
It is a rare person who has not been touched by breast cancer in some manner or other and I am no different. The battle can be devastating, even beyond the loss of loved ones. The only hope for defeating this disease is through research and treatment and that does not come cheap. Sue and I have participated in numerous fundraising campaigns and bought our fair share of pink ribbon items to support this cause. I am very proud to now be able to directly participate with our own pink ribbon project; one that does good for all involved. Please help by giving this gift of love and hope to your special someone.

-- Doug Ritter

My mother was lucky to have survived breast cancer--twice, 10 years apart. Today, we have better technology, better diagnosis and better treatment. Women today depend a lot less on luck than my mother had to twenty years ago. Still, we have a long way to go to put an end to this terrible disease. I am proud to join Doug in the effort to fight for the cure of all women's cancers. Let's all help to give the women in this world the hope they deserve.

-- Roger Claunch
A portion of the proceeds from the sale of each Doug Ritter RSK™ Knife goes to support the non-profit Equipped To Survive Foundation.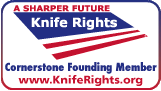 ---
---
Email Doug Ritter
URL: http://www.DougRitter.com/rsk_mk1-mini-pink.htm
First Published: May 25, 2009
Revision: 01 October 17, 2010