Doug Ritter
RSK® Mk5 Fixed Blade Survival Kit Knife
Click on photos for larger image. Studio photos by
Steve White - Arizona Digital Imaging Institute
. Field photos by Alan Romania and Doug Ritter
(NOTE: Pre-production and first prodction run (multi-color lanyard) units shown in some photographs.)

RSK® Mk5 Knock-offs Online
Counterfeit RSK® Mk5 knives complete with CRKT and Doug Ritter logos are being offered online. Buy only from authorized CRKT dealers.
Identification: These poor quality knock-offs do not include the CRKT tin and have a mutli-colored lanyard as used on the first run of these knives
(current production have a black lanyard).
Click for more information about counterfeits.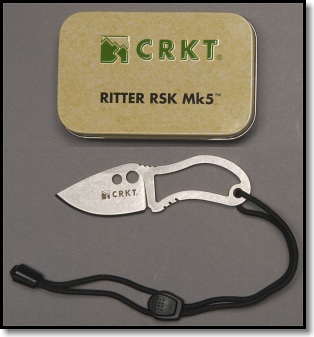 "Are you sure you need this (RSK® Mk5 prototype) back?"
RSK® Mk5 field tester during development
The RSK® Mk5 (CRKT Model 2380) is a compact, lightweight fixed blade designed to some very strict constraints. As such, it really isn't meant to be an EDC (Every Day Carry) blade (though some of my beta-testers have done so). It was designed expressly as a back-up blade, and specifically to fit into a small survival kit tin or pouch. The RSK® Mk5 is compact and light enough to fit in almost any small personal survival kit or stash-away location, yet robust enough that it's a knife you can bet your life on™.
The RSK® Mk5 is the result of a collaboration between me, custom knifemaker David White and a member of my ETS Survival Forum, Dr. Andrew Osborne. The original design was developed by Dr. Osborne for his own use and he then commissioned a knife from David (at the time a student in one of his chemistry classes at Emmanuel College). David refined the design, based on Dr. Osborne's cardboard and Kydex models which were designed to fit into an Altoids tin, a popular container for pocket-sized survival kits. Dr. Osborne thought I might be interested in taking a look at his new knife. This just happened to coincide with the early stages of development of a pumped-up version of my Pocket Survival Pak™, the Pocket Survival Pak™ PLUS produced by Adventure Medical Kits, which would include a knife. Since my search to that point had been less than successful (more on that later), I was quite interested.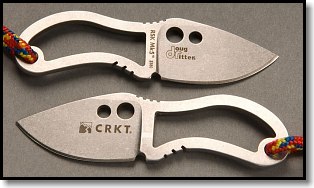 I received a sample of the Shrew, as David and Dr. Osborne called this knife, and went on to meet with them at Blade Show in Atlanta later that month. The concept was sound, but the devil is always in the details and I had a number of ideas on how it might be improved, at least from my perspective. After some further discussion, David agreed to make up a few prototypes incorporating some of my ideas, with the idea being that I'd then look into seeing what could be done to put our little knife collaboration into production as part of my RSK line. That was back in 2006.
Meanwhile, development of the PSP+™ continued in fits and starts. One of the major difficulties in designing a kit like this is to keep the cost of the components down; otherwise you end up with a great product that nobody can afford. My goal is to design great kits everyone can afford. So, if I wanted to use this new knife in the kit, it would have to be mass produced, and the reality was that it would need to be produced in China or it would cost too much. That, in turn, meant I'd need to partner with a manufacturer that had proven success at getting reasonable quality production from China and who had the marketing acumen to make selling such a knife a reasonable prospect. The potential for using the knife in the PSP+™ would certainly help since that would absorb a significant quantity of the knives, but it still has to be a viable product on its own for it to work and to keep costs in line.

David's new prototypes were a step in the right direction, though still far too heavy, and after reviewing these prototypes with Rod Bremer and Doug Flagg at Columbia River Knife & Tool, they decided it was worth pursuing for production. There still remained a good deal to be done and refined to get where I wanted to go with the design, which effort was carried out with assistance from "the other Doug" as we worked towards a knife that would meet all my requirements and be producible at a price that would work for all the parties involved.
The key criteria for this knife were that it had to fit in an Altoids tin and take up minimum space, it had to be reasonably lightweight, I thought that less than an ounce would be a good target, it had to be robust enough to stand up to the type of abuse that can occur in a survival situation, if a folder it needed a secure blade locking mechanism and one hand opening, it had to be functional and reasonably comfortable to use, an admittedly nebulous and subjective concept, and it had to be really inexpensive (at least when purchased in quantity by AMK) while at the same time providing a level of quality that one could bet one's life on™.
When I initially examined the available choices it was clear that meeting all the criteria would be a challenge in an existing knife. Some worked against others, so it was obvious compromises were going to be unavoidable and I'd have to prioritize. The cost was a clear priority, since the rest didn't matter if it wasn't affordable.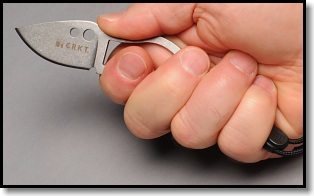 My initial inclination was towards a folder. A folder would provide the longest blade and handle within the space constraints. However, cost especially worked against a folder, if it was to be reliable. Robsutness was another issue that cost impacted. I could meet some, but not all the criteria. Early on, even before the RSK® Mk5 was a gleam in anyone's eye, during my initial reasearch into a possible knife for the PSP+, Rod had somewhat prophetically predicted, "I think you're going to have go for a fixed blade to get all that you want at the price you need."
When I examined existing small fixed blades, there were few that would fit or could be modified to work, but none of them were exactly inexpensive. I was starting to think about designing a knife from scratch, and had even sketched out some possibilities, and then Andy dropped his and David's knife into my life. My initial impression was captured in my first email to David, "...practical blade shape and functional handle. I have some ideas for improvements..."
A fixed blade potentially offers some advantages to offset the shorter blade and handle and need for a separate sheath. Most notably, it is made from a single piece of steel. No joint or lock to deal with or fail, it's the ultimate in simple.
Columbia River Knife & Tool RSK® Mk5


Design
Dr. Andrew Osborne, David White, Doug Ritter
Blade Material
3Cr13 hardened to 52-55 HRC
Blade Length
1.75 in. (44.5 mm)
Edge Length
1.94 in. (49.3 mm) plain edge
Blade Thickness
0.12 in. (3 mm)
Blade Shape
Wide-Chord Drop Point
Blade Grind
High Flat Grind, 18º Nominal
Overall Length
3.81 in. (97 mm)
Handle
Skeletonized
Weight
0.78 oz. (22 g)
Sheath
Molded & Riveted Fiberglass-Reinforced Nylon
Weight w/ Sheath
0.88 oz. (25 g)
*Specification subject to change without notice
Dr. Osborne and David had already started off right-sizing the knife to fit in an Altoids tin. Given my established preference for a wide chord drop point blade shape, Dr. Osborne had pretty much nailed that part of it. However, it was way too heavy for my purposes and the handle, blade and grind needed refinement. The first thing I did was put it on a diet.

I was able to both save weight and significantly improve the slicing capability by raising the grind. A knife needs to be able to slice, first and foremost. Plus, I knew we weren't going to end up with the very best steel, that would cost too much, so an acute edge geometry was essential. We added the holes and slots in the blade to save weight and also provide some purchase for the minimalist molded plastic sheath I had envisioned. David added slots in the handle to reduce weight further. With the relative thick stock and short blade, we still had plenty of strength to work with. It was still too heavy, but we were moving in the right direction.

Once I started working with CRKT, we put the knife on an even stricter diet. Raising the grind even higher helped a little. The handle was hollowed out to become fully skeletonized, as thin on the edges at we could make it and still fine blank (stamp out) the blades. Any thinner would have required laser cutting or EDM and that would have raised the price too much. That all combined to cut the weight by over 40% to just a hair under eight-tenths of an ounce.

After field testing of some intial CRKT prototypes by me and some associates, we made subtle changes to the ergonomics, especially the thumb ramp, for improved comfort during use, incorporating some of the concepts I used on my RSK® Mk3 fixed blade. Those little changes made a huge difference.

The steel choice came down to what CRKT's chosen factory could work with that could be fine blanked and would meet my minimum standards. The 3Cr13 stainless steel is hardened to 52-55 HRC. That pretty comparable to 420-modified in U.S. nomenclature. It's got just enough carbon (0.35%) to have acceptable edge holding and the relatively high nickel (0.5%) adds toughness. CRKT has used it extensively with good results.

In terms of edge retention, in my testing and that of associates it performed adequately for typical survival chores such as making feather sticks, splitting wood, constructing shelter, etc. While the edge may roll when abused, we saw no chipping and it is very easy to sharpen, even just using a found stone. While higher carbon steel would have been nice for the improved edge retention it would offer, I can live with this for the design point, a short term survival incident. It was certainly one of the key compromises we needed to make to keep the price in bounds.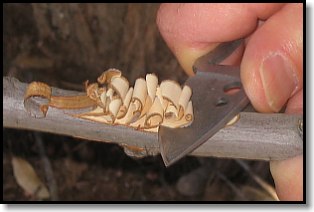 One side benefit of the 3Cr13 steel is that is has pretty high resistance to corrosion, compared to many higher carbon stainless steels, which might be an advantage in a knife that may be stored away for years before it is ever used. This naturally high rust resistance is enhanced further by the stonewashed finish, which has become something of a signature of mine. This not only provides improved corrosion resistance, but also doesn't show scratches and such as bad as a polished finish. Plus, I love the way it looks.
Due to customer demand, a black coated version of the RSK Mk5™ has also been produced for a major knife distributor and is now also available at many CRKT dealers.
The RSK Mk5's™ wide chord drop point 1.75-inch (44.5 mm) blade provides a nearly 2-inch edge (1.94 inches (49.3 mm) to be exact). Overall length is 3.81 inches (97 mm).
The ergonomic curved handle provides a secure and comfortable two-finger grip for most users. The lanyard (or the brightly colored nylon lanyard/fob in the first production run) attached to the RSK® Mk5 is an integral part of the design. It helps provide a more secure and comfortable grip by effectively lengthening the short handle without adding hardly anything in the way of bulk or weight.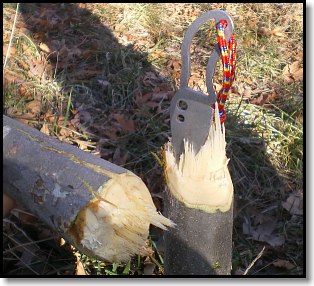 You should adjust the position of the slider (or the knot on the first production run) so that when you grasp the knife and fob, the slider/knot fits snugly into the end of your fist. You can cut off excess cord if desired.
The slider/knot also serves to keep your fingers safe, by helping to lock the handle in your grip. Combined with the agressive jimping (slots) on the underside of the handle to retain your index finger and the thumb rest, they help prevent your finger from slipping forward onto the blade's edge.
Given all the ergonomic compromises required in a knife this size, I was pleased to no end that only two out of the few dozen who tested it declared they didn't like how it felt in their hand. I'd have been happy, quite frankly, with much worse results.
I and my beta-testers have used this diminutive blade to perform all the normal survival chores you'd expect to need to do with a knife. We made feather sticks, cut down saplings for shelter, cut branches and sharpend the ends, dressed game, cleaned fish, and generally used and abused the prototypes just like you might have to if you were depending upon it to save your life.
The blade is laser engraved on both sides. On the front of the blade is the CRKT logo. On the back side is my Doug Ritter logo and on the tang, "RSK® Mk5" plus the CRKT model number (2380).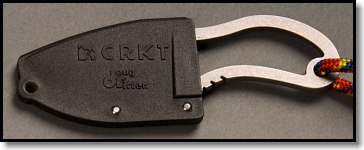 Eric Noeldechen of On/Scene Tactical graciously volunteered to put together a minimalist lightweight sheath for the prototypes. We used that as a starting point for a workable production sheath. We went back and forth between Kydex and molded. Initially we had hoped to use the holes in the blade to lock a molded sheath in place, but CRKT determined that it wouldn't work so well. They do save weight and don't adversely affect strength, so we left them there. After a lot of prototypes we finally settled on a nifty compact molded & riveted fiberglass-reinforced Nylon (FRN) sheath.

The sheath weighs in at just a hair over one-tenth of an ounce. The lanyard hole (hollow rivet) is sized for the 3/32" or 2.4mm (#3) ball chain used for dog tags and such. I'd have liked to make the hollow rivet big enough to accept parachute cord, but we ran into problems fitting it into the tin with a bigger rivet. If you remove the inner strands, you can use the para-cord outer sheathing. For a short-term survival situation, it can be carried in a pocket, hung from your belt or hung on a safety lanyard or chain around your neck. You don't need to jerk the knife free of the sheath, as is the case with many neck knives. The angle cut into the sheath opening at the top is there to allow you to use your thumb to push aginst the sheath to withdraw the knife.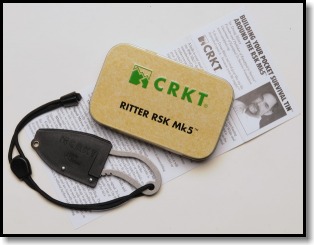 The RSK® Mk5 comes packed in a custom CRKT tin, virtually the same size as an Altoids tin. Included is an instruction sheet titled, "BUILDING YOUR POCKET SURVIVAL TIN™ AROUND THE RSK® Mk5" which I authored. The sheet provides a list of components that could be used to assemble your own Pocket Survival Tin™ using the RSK® Mk5 tin.
Of course, the simplest, and likely least expensive, solution is to just get one of my Pocket Survival Paks™ and make use of those components. Or, alternatively, the RSK® Mk5 will slip right into the PSP's pouch.
MSRP for the RSK® Mk5 is $26.99.
The RSK® Mk5 is the first of my knives that is distributed through normal retail channels. You should be able to get it from any CRKT dealer.

A portion of the proceeds from the sale of each Doug Ritter RSK® Knife goes to support the non-profit Equipped To Survive Foundation.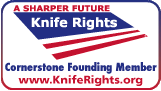 ---
---
Email Doug Ritter
URL: http://www.DougRitter.com/rsk_mk5.htm
First Published: January 13, 2009
Revision: 04 July 22, 2011