Doug Ritter
Essentials™ Aviator Survival Vest™
I build Doug Ritter Aviator Survival Vests like my life depended upon it...
...because your life might.™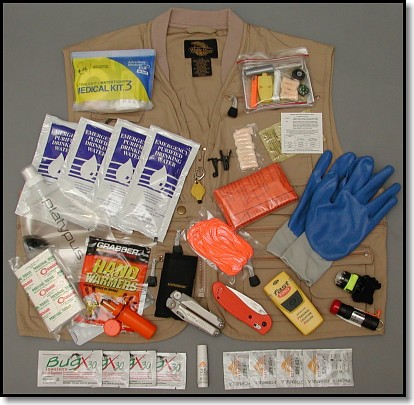 Shown with a PLB - ACR ResQLink PLB is current recommendation

As I tell pilots time and time again, "if it isn't with you, it can't save you™." Carrying your essential survival gear in a vest is more comfortable, less cumbersome and more convenient than stuffing your pockets with gear. Slip it on when you take your seat, take it off and drape it on the seat when you arrive; no muss, no fuss. Wearing your Doug Ritter Essentials™ Aviator Survival Vest™, if you ever have to exit the aircraft quickly in an emergency, all your most critical survival gear is already with you. Even if you don't get the larger aircraft survival kit out of the aircraft, you at least have the minimum survival supplies and equipment to survive and signal for rescue.

A portion of the proceeds from the sale of each Doug Ritter Essentials™ Aviator Survival Vest™ goes to support the non-profit Equipped To Survive Foundation.

This customized cotton vest includes 12 exterior pockets and 8 interior pockets. Its short length and smooth back provide added comfort while flying. There is room for added personal gear and supplies including your compact VHF Handheld Transceiver or 406 MHz Personal Locator Beacon. The vest includes the following highest quality essential components worth betting your life on™:
1 AMK Pocket Survival Pak™ designed by Doug Ritter in water-resistant pouch (Includes Spark-Lite Firesarter, Tinder, Signal Mirror, Whistle, Compass, Waterproof Survival Instructions and much more - Click for contents list or Click for complete details of PSP)
12 Stormproof Matches and Striker, w/ Instructions in Match Safe
6 Spark-Lite Tinder-Quik Tinder (additional to what is included in the PSP - vacuum packaged)
6 Katadyn MP-1 Water Purification Tablets w/ Instructions for Use (added to PSP)
1 AMK .3 Ultralight First Aid Kit in water-resistant pouch
1 Doug Ritter Special Edition MkII Photon Freedom Micro-Light w/ Cap Clip (click for details)
1 eQ Hands-Free Multi-Light Headlamp/Flashlight (vacuum packaged)(click for details)
1 AMK SOL Heatsheets 1(2)-Person Survival Blanket/Shelter (vacuum packaged)
50 ft. High Strength Utility Line – 275 lb. test (vacuum packaged)
4 Water Ration Packages, 4.225 fl. oz. USCG Approved – (vacuum packaged)
1 1-Liter Platypus Flexible Water Bottle


Doug and Sue Ritter wearing their
D.R. Essentials™ Aviator Survival Vests™

1 Toilet Tissue (vacuum packaged)
4 Insect Repellent Towlettes (vacuum packaged)
4 Suncreen Packets (vacuum packaged)
1 Lip Balm (vacuum packaged)
1 pr. Gloves - nylon knit with nitrile coated palms (vacuum packaged)
1 Greatland Laser Rescue Laser Light w/ waterproof Instructions for Use (vacuum packaged)
1 Doug Ritter RSK™ Mk1 Folding Utility/Survival Knife (click for details)
1 Leatherman Wave Multi-Tool
1 Illustrated Instruction Manual for the Vest
Base price of the Doug Ritter Essentials™ Aviator Survival Vest™ is $725.00
Options:
Upgrade to Greatland Laser Green Laser Flare from standard Red Rescue Laser Light - provides 50% or more greater range and more noticeable flash: $160
If you do not have a PLB or your PLB is an older generation, heavier and larger PLB, we suggest the ACR ResQLink 406 MHz GPS PLB: These are readily available online and we no longer can get wholsale pricing on individual orders from ACR, so we do not sell them with the vest anymore.
Limited Availability to Stock on Hand due to supplier issues:

Vests are currently available size Large or X-Large in Khaki and size Large in Olive Drab
CALL TO PLACE AN ORDER: 480-219-7271
Please allow 3-6 weeks for shipment. Doug Ritter reserves the right to substitute, add or withdraw components at his discretion.
---
---
Email Doug Ritter
URL: http://www.DougRitter.com/dr_essentials_vest.htm
First Published on: November 8, 2008
Revision: 01 November 6, 2012