Doug Ritter
Essentials™ Aviator Survival Vest™
UPDATED 12/24/2022: Urgent Need or Place Your Name on List for Next Run of Essentials Aviator Survival Vests™
Scroll Down for Info.
I build Doug Ritter Aviator Survival Vests like my life depended upon it...
...because your life might.™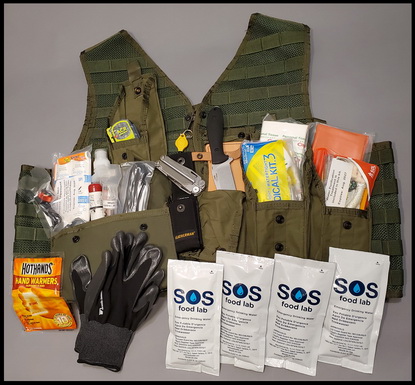 Doug Ritter Essentials Aviator Survival Vest G2
Shown with optional RSK™ Mk3-G2 fixed blade knife and customer-supplied PLB.

As I tell pilots time and time again, "if it isn't with you, it can't save you™." Carrying your essential survival gear in a vest is more comfortable, less cumbersome and more convenient than stuffing your pockets with gear. Slip it on when you take your seat, take it off and drape it on the seat when you arrive; no muss, no fuss. Wearing your Doug Ritter Essentials™ Aviator Survival Vest™ G2, if you ever have to exit the aircraft quickly in an emergency, all your most critical survival gear is already with you. Even if you don't get the larger aircraft survival kit out of the aircraft, you at least have the minimum survival supplies and equipment to survive and signal for rescue.

I discontinued building my original Essentials™ Aviator Survival Vest™ some years ago when the vest that I modified for my use was discontinued. To date I have not found a workable off-the-shelf replacement and the cost of a short run of vests is prohibitive. Military surplus vests are available which, while not as inexpensive, are designed for purpose. I now offer a "Generation 2" version of my Essentials™ Aviator Survival Vest™ based on the U.S. military CMU-33 AIRSAVE vest. One advantage it offers is that is it constructed of Nomex and thus is extremely fire resistant. Additionally, with its MOLLE pouches, it is also expandable and you can move pouches around to suit. On the downside, it is more bulky and weighs more, as well as being somewhat more expensive.

These CMU-33 vests are generally available on eBay for prices that range from a bit under $100 to a bit over $200. What's available varies from week to week. While I occasionally have one in stock, in most cases the client will purchase one from eBay from a list provided, and have it shipped to me for assembly. This provides the lowest possible cost because I don't have to add anything for my handling of the purchase or the cost of keeping them in stock. When the time comes, contact me for a list of available vests and my shipping address. If you are planning to have me build you a vest, I recommend purchasing one when available as one may not be available when the time comes.

I generally try to build these vests at the same time that I am doing a run of my Ultimate Aviator Survival Paks™ in order to keep the cost lower. If you need one urgently, please email me, but be advised there will be a premium over regular cost for a one-off build.

When last I built these vests in November 2022 (at same time as UASPs) the cost (in addition to the cost for the CMU-33 vest) was $818 + Shipping. Actual cost at time of order will depend on my cost for the components when I next build one because the price and availability of components is not stable as the result of supply chain disruption and inflation.

If you would like to get on the list for the next batch build, probably in March 2023, or if you have an urgent need or if you have any questions, email me: Doug@DougRitter.com

At a minimum, the CMU-33 vest must include three General Pockets (pouches) and one large pocket (technically a "radio pocket") or 2 additional GP pockets. If you desire the fixed blade option (below), you will need the Knife Pocket (which integrates a leather sheath). I sometimes have the Knife Pocket in stock. The eBay links I provide also include enough pouches or, if not included, links to pouches will be provided as well. The vest includes the following high-quality essential components worth betting your life on™:
Doug Ritter Essentials Aviator Survival Vest G2
Shown with optional RSK™ Mk3-G2 fixed blade knife in pouch.

1 x Adventure Medical Kits Pocket Survival Pak™ designed by Doug Ritter in water-resistant pouch (Includes Firesarter, Tinder, Signal Mirror, Whistle, Compass, Waterproof Survival Instructions and much more - Click for contents list or Click for complete details of PSP) (NOTE: These are discontinued by AMK, but I currently have stock.)
12 x Stormproof Matches and Striker, w/ Instructions in Match Safe
6 x Spark-Lite Tinder-Quik Tinder (additional to what is included in the PSP - vacuum packaged)
6 x Katadyn MP-1 Water Purification Tablets w/ D.R. Instructions for Use (added to PSP)
1 x Adventure Medical Kits Ultralight/Watertight .3 Medical Kit
1 x Doug Ritter Special Edition MkII Photon Freedom Micro-Light w/ Cap Clip (click for details)
1 x Secure-switching Dual CR2032-powered Headlamp (model depends on availability) (vacuum packaged)
1 x Adventure Medical Kits Emergency Blanket XL (vacuum packaged)
50 ft. High Strength Utility Line – 275 lb. test (vacuum packaged)
4 x Water Ration Packages, 4.225 fl. oz. USCG Approved (vacuum packaged)
1 x 1-Liter Flexible Water Bottle
1 x Toilet Tissue (vacuum packaged)
4 x Insect Repellent Towelettes (vacuum packaged)
4 x Sunscreen Packets (vacuum packaged)
1 x Lip Balm (vacuum packaged)
1 pr. Hand Warmers (vacuum packaged)
1 pr. Gloves - nylon knit with nitrile coated palms (vacuum packaged)
1 x Greatland Laser Rescue Laser Light w/ waterproof D.R. Instructions for Use (vacuum packaged)
1 x Doug Ritter RSK® Mk1-G2 Folding Utility/Survival Knife (click for details)
1 x Leatherman Wave+ Multi-Tool
1 x Illustrated Instruction Manual for the Vest
Doug Ritter reserves the right to substitute components of equal or better capability at his discretion.
Options:
Upgrade to my Doug Ritter RSK® Mk3-G2 fixed blade knife: $40 (does not include cost of Knife Pocket with sheath, see above). This is the same knife that's included in my Ultimate Aviator Survival Pak™. It adds about 3.5 ounces with the sheath.
Upgrade to Greatland Laser Green Laser Flare from standard Red Rescue Laser Light - provides 50% or more greater range and more noticeable flash: $160
Upgrade to AMK Ultralight/Watertight .5 Medical Kit from .3 Medical Kit: $25
There will be dedicated space to fit a PLB or SEND in a pocket. If you do not have a PLB or SEND, I suggest the ACR ResQLink™ 400 406 MHz GPS PLB: These are readily available online and I no longer can get wholesale pricing on individual orders from ACR, so I do not sell them with the vest anymore. You could also use a current generation Garmin inReach or Globalstar SPOT (subscription required).
---
---
Email Doug Ritter
URL: http://www.DougRitter.com/dr_essentials_vest_g2.htm
First Published on: January 24, 2023